Every time I find myself in the market of getting new wireless earphones, I'm bombarded with a gazillion choices ranging from $30 to $200 and I'm stuck wondering if they are any good or not.
So here is a no hassle list for all those (like me) who are on the lookout for a good pair of wireless Bluetooth earphones. Note that these are not headphones so don't expect bulky around the head type, they are earphones and are all very good!
The question now is which one will you pick because if I were you, I'd still be in a conundrum unless you have a budget in mind.
Best Wireless Earphones
We have covered these brands but you are welcome to invest in any other.
Sony WI1000X/B
Beyond doubt, if you are a fan of great sound and product durability, you can't go wrong with Sony. Yes, its pricey but the sound is unbeatable – Sony WI1000X/B is a digital noise cancelling earphone with a steady behind the neck band. They have a very stable and good Bluetooth connection and you can further control settings with their Connect App.
Best part? Adaptive Sound. If you're one of those who like to know what's happening around you while still being part of your music world, adjust your settings through its Connect App and the Bluetooth earphone will automatically detect activities around you.
Wondering about battery life? Its very good. 10+ hours easy and the gadget comes with vibration notifying tech informing you of incoming calls. The earpiece is NFC enabled and equipped to do your bidding if you use it with Google Assistant.
Long cable irritation? Worry not, the neck band has a cool hidden space which you can use for zipping away the extra hanging cable.
Problems? Just one; its not water resistant.
JBuds Air Executive
Here is a cheaper option: JBuds Air Executive. These Bluetooth earbuds are best for travel and business. They incorporate high-class sound and signal technology with its Bluetooth 5.0 and C3 calling (crystal clear clarity). You can adjust sound quality via 3 custom EQ settings. The dual microphones work seamlessly; one mic eliminates surrounding noise while the other picks up your voice for clear conversations anywhere, anytime . These are remarkable to use while exercising or indulging in any activity that requires a significant amount of robust movement. Especially when coupled with its BeAware Audio, you can keep situational awareness while taking calls and listening to music.
The earbuds come with their own charging case and auto connect with each other when they are out of the case. They are dust and sweat proof with IP55 rating and a 2 year warranty.
Urbanears – Jakan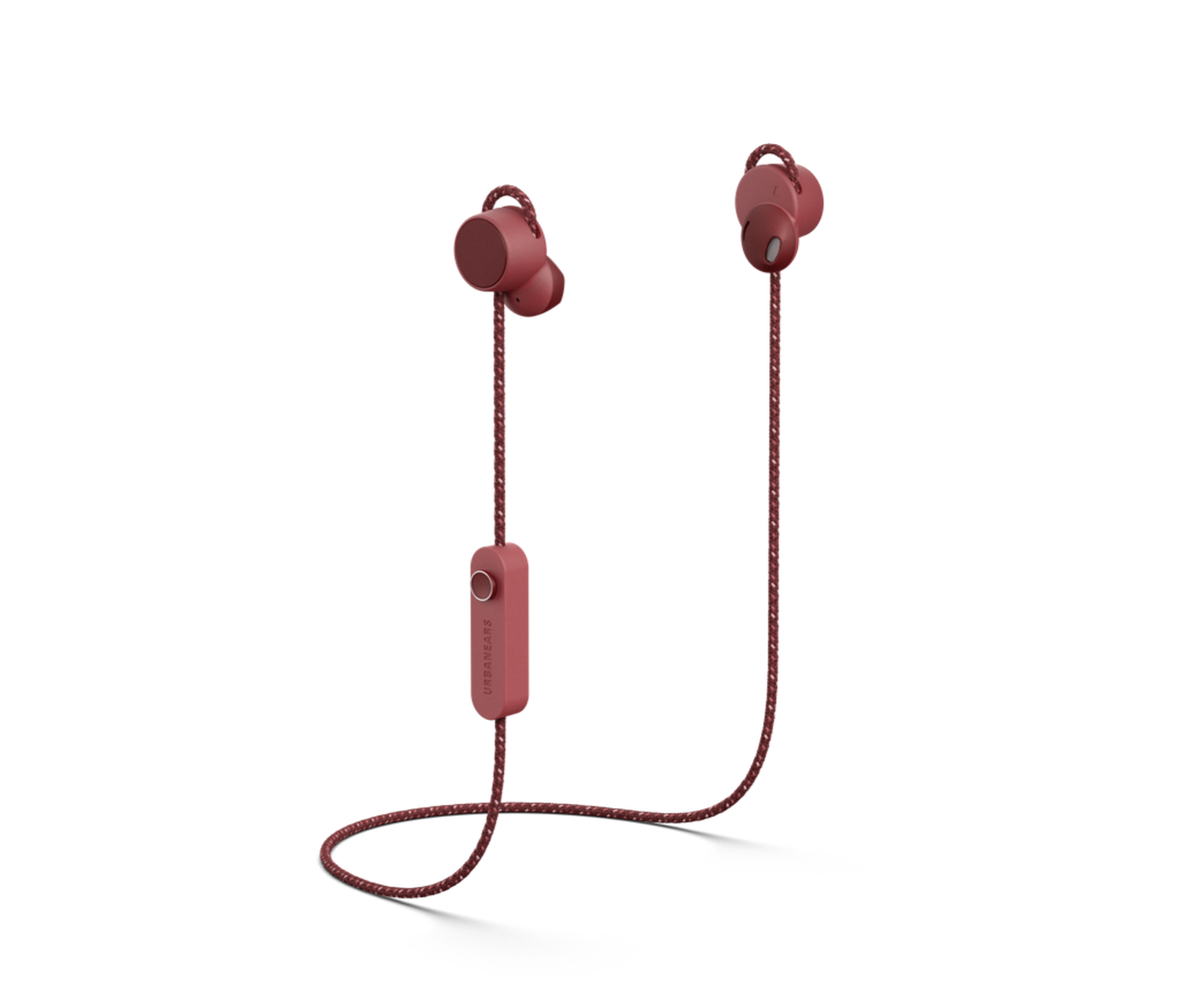 New people in the market, Urbanears' Jakan is a steal for the price.
You get 7 colours to pick from, global shipping, 12 hours of playtime on a single charge, and get magnetic earbuds to hang round your neck.
Jakan features an intuitive control knob but some claim it to be useless. The wire is tangle-free and sound is crisp and clear.
Sennheiser CX Sport
Everyone knows Sennheiser.
With their CX SPORT In-Ear Wireless earphone, you get a lightweight, sweat and splash resistant experience with a round the neck (or front) design, and advanced Bluetooth technology.
With Sennheiser, (or Sony), you can't go wrong with sound; and so CX Sport gives you the same high quality sound.
Black Friday sale offers!!

Get Sennheiser's AMBEO Soundbar for $1,995.95 (originally $2,499.95).
Get CX Plus True Wireless for $149.95 (originally $179.95)
Get HD 800S for $1,399.95 (originally $1,599.95)
Get the HD660S for $399.95 (originally $499.95)
Get the MOMENTUM Wireless for $249.95 (originally $399.95)
This offer is valid till 5th December, 2021.
Bose Soundsport Pulse
If you need a wireless earpiece for exercise, Bose Soundsport Pulse has a built in heart rate sensor. The Bose Connect app will show your real time heart rate readings as well as update your headphones with new functionality. It works with fitness apps that use bluetooth vesion 4.0 like MapMyRun, RunKeeper, Endomondo and Runtastic. The StayHere tips ensure the earphones don't fall out of your ears during rigorous workouts. They can go on for 5 hours on a single charge. It is available in Power Red only.
Denon Sports Headphones
The sound Denon AH-C160 produces is supreme, but the battery life is trash. 4 hours is not something you want to invest in. But nevertheless, the product is outstanding. For some, the battery stretches enough to last long enough or are not heavy users, but loyal ones.
Denon delivers clear voice with noise reduction for calls and voice prompts. The earhooks with comfy eartips enable a secure fit for those who are into sports (hence the name also). The wireless Bluetooth earphones are built for tough use and so are sweat and moisture resistant.
xFyro ARIA
The xFyro ARIA are the latest bluetooth wireless earbuds from the company that launched the xS2 2 years ago. These Bluetooth 5 earphones are waterproof (IP67 rating) with clear sound and 8 hours of battery life on a single charge. The charging case allows for auto connect/disconnect which is a plus for anyone who forgets to disconnect their phone. You can charge the earphones 3 times with this.
The earphones are extremely comfortable with great touch buttons/controls. Google and Siri are available on command. xFyro ARIA is a decent set of bluetooth earphones you should invest in.
Phaiser BH-730
These wireless earphones by Phaiser are best for listening to music. They come with a foam tip that provides complete isolation from external noise. They're magnetic and can be worn as a necklace. They have a powerful bass and HD sound coupled with 4.1 Bluetooth tech for smooth transmission. They can take a low brush with water dropping and come with a lifetime sweat proof warranty. Available in five colours, you an pick one that suits your style.
Treblab J1 Bluetooth Earphones
Treblab J1 wireless earphones have a fantastic HD sound quality and can go on for 9 hours approximately. Made for every kind of sport, they are sweat proof and can take minor contact with water as well. With Bluetooth version 4.1 plus APT-X, the connection will remain stable up to 38 feet. You can take your calls and expect your voice to be clear on the other end, thanks to their HD microphone and noise cancelling tech. They also come with a lifetime warranty, and 100% money back guarantee with A++ customer service. What more do you need? Oh yes, a different colour, but sadly, you are stuck with black if your pick is Trelab J1
AfterShokz Air
The Trekz Air are a wireless bluetooth headphone designed to be worn on the ear bone. The earpiece is a wrap-around-the-head design dedicated to keeping your ears open and yet allow you to enjoy music/calls via the bone conducting tech.
Trekz Air are sweat-proof and designed for long-term wear. Bluetooth 4.2 connectivity establishes easy pairing with both iOS and Android devices and even PCs and Mac.
Users say the sound is great and the LeakSlayer tech which AfterShokz proclaim does reduce sound leakage for a better noise cancelling experience.
And that's all from us, but certainly there are a plethora of other brands and wireless Bluetooth earphones that you can select from. If you know an awesome tech earpiece that works on Bluetooth tech, share with us in the below comments!
You May Also Like